January 2017
---

Women's Leadership Series
Women's Leadership Series Offers Opportunities for Purdue Residents, Staff
University Residences is holding its seventh annual Women's Leadership Series this semester, providing growth and leadership opportunities for female students, faculty and staff here at Purdue.
The theme of this year's series is "Be Bold, Be Brave, Be You," and is designed around the book Simple Secrets by Kathy Davis. Featured speakers are Emily Liggett, CEO of NovaTorque, a high-efficiency electric motor company; and Lorna Utley, president and CEO of Goodwill Industries of Greater Detroit. Both executives are Purdue alumnae. Each year speakers are asked to share their story and how they have developed through all aspects of their lives, exploring topics like leadership challenges, overcoming barriers, being authentic, networking and connecting, and growing strengths.
The Women's Leadership Series was developed by University Residences staff with support and counsel of Susan Bulkeley Butler, the founder of the Susan B. Butler Center for Women at Purdue University. More than 600 Boilermaker women have participated in the series since its inception in 2011.
Residents of UR are nominated by staff to participate in WLS, and there is an award presented to one student annually who attends every WLS event, is in good academic standing, and demonstrates leadership on campus or in the community.
"The Women's Leadership Series is a phenomenal program that introduced me to fascinating women in University Residences and beyond," said Devi Covi, a recent Purdue graduate and WLS participant who now works in product development for Facebook. "Through this program, I have learned how to use the world's perception of me and my unique strengths to my advantage, allowing me to form invaluable and lasting relationships."
Writer: Matt Watson
---


Alumni Profile
Harrison Hall Alums Celebrate 44 Years of Marriage
"That's how we met, over dress standards."
This is the story of Terry and Nancy Quinn, who found love and politics at Harrison Hall. The Quinns, married 44 years as of last month, were both floor senators in Harrison in the fall of 1969, and they got to know each other while fighting to change the dining hall dress code.
"At that point in time, women were expected to wear skirts to dinner. It was difficult to do that and get to dinner on time when you were coming from a chemistry lab on the opposite end of campus," Nancy said. "The guys felt that dressing up for dinner and putting on dress pants was a waste of time. Things were changing." Terry introduced a bill in the hall senate proposing that one of the two dining rooms in Harrison abolish the dress code, while the other retain it. The senate narrowly voted in favor of it, but the president of the hall vetoed the bill. Terry then wrote an open letter to the Harrison administration, and Nancy conducted an all-hall survey to back up their bill with public opinion. The politicking continued, but still no change until the spring, when Terry and Nancy finally found a way to influence the president.
"At the next hall-wide elections, I ran for president and Nancy ran for vice president," Terry said. "It wasn't long before the dress code got changed." To this day, the Quinns still have their gavels with dates on them from their hall government tenures.
Terry and Nancy officially became the Quinns in December 1972, when they married at St. Thomas Aquinas in West Lafayette. When asked how Terry proposed, Nancy says, "He set a date." "I've long been quite a romantic," Terry said. Terry's Harrison Hall roommate was in the wedding, and they still keep in touch. Nancy just went to lunch in January with one of her Harrison roommates, who also served as hall secretary during their hall government takeover.
Years later, the Quinns are easing their way into retirement. After 24 years in the trust and investment industry, Terry, who has an economics degree from Purdue and a J.D. and M.B.A from Notre Dame, retired and took a part-time job at a local bank and trust near their home in Schererville, Indiana. Nancy, who has a math degree from Purdue as well as a graduate degree in counseling, retired after 25 years of teaching but still tutors students.
One of their first trips since they've both been retired was back to Purdue, the origin of their careers and their marriage, for Harrison's 50th anniversary celebration in October. Terry and Nancy generally come back to campus once or twice a year for football and basketball games, and came back more often when their son was working on an engineering degree during the Drew Brees years, but they hadn't been back to Harrison in some time. "Getting a tour of the dorm brought back some memories, and it was neat to see how it had changed since meals are no longer served there, how the dining rooms were turned into study areas and meeting areas and so forth," Terry said.
The Quinns also have a daughter who went to Notre Dame – Nancy says they raised one of their two children correctly – and grandchildren, two of whom are being raised to be Boilermakers. Regardless of who went where, the whole family owes its start to a Purdue residence hall, and a dress code that needed some teamwork to overturn. "It was interesting to come back and take the tour of the renovations and changes. It was reminiscent, a time to remember being younger and appreciating how special a place was that you spent a lot of time and put in a lot of energy," Nancy said. "It's a place I describe as part of my history."
It's certainly a history worth sharing.
Writer: Matt Watson
---

Student Spotlight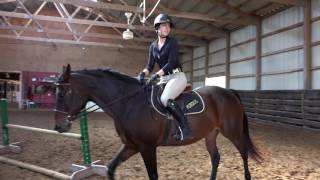 Hillenbrand RA Enjoying the Ride
Morgen Federspiel, a resident assistant at Hillenbrand Hall, was recently featured in a BoilerTV video about the Purdue equestrian team.
---
 
Purdue Day of Giving April 26, 2017 - All Together, We Can Grant Opportunity
Thanks to your incredible generosity, the Purdue community broke records in 2016 — raising $18.3 million from almost 13,000 gifts on Purdue Day of Giving. And that's just the beginning. This year, let's show the world what can happen when we come together!
What is Purdue Day of Giving?
A 24-hour event where the Purdue community comes together to support higher education at the highest proven value.
Where Does My Gift Go?
That's up to you — you can give to your favorite college, school, program, or student organization.
Why Give on April 26?
Hourly challenges and bonus funds mean more dollars go to your favorite college, school, program, or student organization.
Stay tuned for more information in our upcoming newsletters!