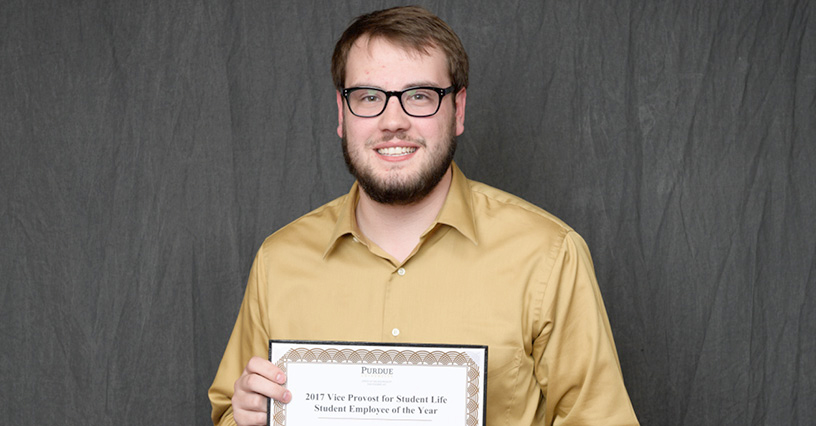 Alumni Feature
Komis Shares Connections Between Dining Experience, Pharmacy Career
Ties between working in a pharmacy and dining service might not be obvious, but Robert Komis, a 2017 Purdue University graduate who recently earned a doctorate in pharmaceutical sciences, believes that his experience working for Dining & Culinary as a student employee directly benefitted his pursuit of a pharmaceutical career.
"When I think about what I am today, I can trace it directly back to working for Dining," Komis says. "That was a stepping stone experience I was able to talk about at the next level. Going into an interview, I could say that my job was directly or indirectly supervising 1,500 student employees – and that says something."
Komis served as the first student success intern for Dining & Culinary. The position oftentimes involved shaping new programs in a way that best helped student staff.
"I think what I liked about it was the fact that it was so new and I could really build the position into what I thought students needed from Dining as a whole," Komis says. "Helping students understand that they're getting soft skills that are making them employable."
As the student success intern, Komis helped lead the development of training programs and foster an inclusive, family atmosphere across all of Dining & Culinary's operations. Much of his work focused on programs implemented during Jumpstart, a program that allows students to move into their residence halls and begin student employment early. Komis' work focused on programs and trainings to help student staff prepare for the new year while creating opportunities for students to form close relationships amongst themselves and professional staff.
"What we found is that students were more likely to stay employed during their sophomore, junior and senior years if they felt that family connection," Komis says. "We wanted to make sure all of our locations had that."
Komis started his journey through Dining & Culinary as a student employee at Ford Dining Court. At the recommendation of Kathy Vil, the dining court manager, he applied and was promoted to student cook and later became a student supervisor. Komis later pursued the student manager position at Ford, but was unsuccessful – which sent him on his path to student success. After working as an ambassador during Summer Transition, Advising and Registration (STAR), he was asked by Mary Jo Zeiser, student success manager, to take on the student success internship.
"You may think a door is closing in your face, but there's one six or seven feet away that's opening," Komis says. "I had one door slam in my face when I tried to be student manager at Ford, but six feet away I had one open to become student success intern. My journey just rocketed off from there." 
Komis was recognized with the 2017 Sarah Johnson Outstanding Student Employee Award, presented to an outstanding Dining & Culinary student employee and selected based on reliability, quality of work, teamwork and contributions to the organization. He notes that he received encouragement and mentorship from Vil, Ashley Sargent and Zeiser, whom he especially credits for her support during his internship with student success.
"Mary Jo was just wonderful at coaching and understanding that I was going to fail at certain points and that was ok," Komis says. "She helped build me up. I think without her, I wouldn't have gotten into pharmacy school."
Komis says he learned a variety of valuable skills during his time with Dining & Culinary, many of which he refers to and uses in his career and educational pursuits.
"When I interviewed for pharmacy school, I talked about my position as a student success intern," Komis says. "Food service and pharmacy can be really similar, especially retail pharmacies, and being able to multi-task and take care of customers or patients are translatable skills."
Komis graduated from the University of Tennessee College of Pharmacy on May 11. He will begin a residency at Le Bonheur Children's Hospital in Memphis, Tennessee with the goal of completing two years of residencies within hospitals as he further specializes within his pharmaceutical interests.