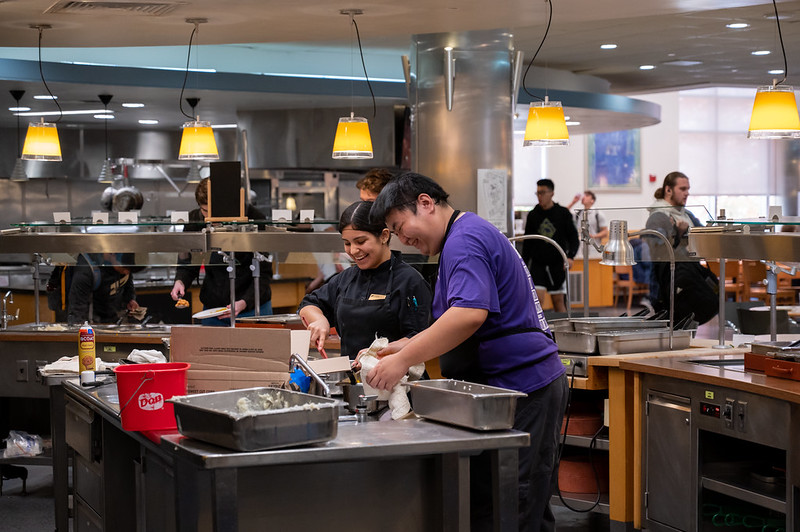 During the fall semester, University Residences and Dining & Culinary have continued to support students living on campus academically and socially while serving as their campus home. UR and PD&C have created opportunities for personal growth through programs, student employment, mentorship and more. Below is a snapshot of numbers that capture the impact of our work.
University Residences supported the University's record-breaking campus enrollment by housing 15,896 students.
Dining & Culinary provided more than two million meals to more than 15,000 meal plan holders.
The Residential Life team created more than 75,000 social and educational resident interactions by hosting nearly 4,500 programs. Residence hall organizations such as hall clubs, the Residence Hall Association (RHA) and UR Global continue to offer engaging social, community and leadership opportunities.
Men's and Women's Leadership Series provided opportunities for 72 registered students and 36 mentors to explore topics of leadership and well-being. Five sessions were held during the fall semester, with an additional three planned for spring.
Our residence halls currently boast a record three Faculty in Residence.
The Executive in Residence program hosted two visiting executives, with an additional six visits planned for spring. As part of the program, successful Purdue alumni live on campus for up to one week and mentor students.
Approximately 3,400 Purdue alumni, family and friends visited the UR Alumni & Guest Center to tour our residence halls.
Purdue Dining & Culinary employed more than 1,300 students in 1,668 positions, offering invaluable work and professional development experience.